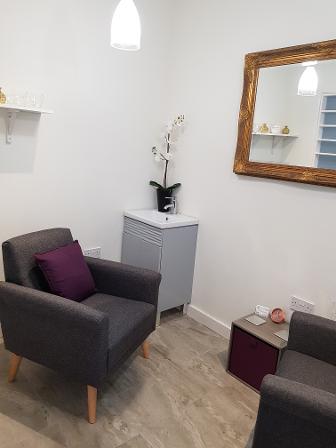 This lovely, cosy room is perfectly located, close to Chelmsford Bus and Train stations and a short walk from Chelmsford town centre. There is plenty of parking (pay and display) in the area making it easy for clients and therapists.
Our aim is to create a collective consisting of counsellors who work together for the good of the community and support each other. This would offer cross-referral and networking/cpd opportunities.
You can find us within Aubergine Salon at:
6 Rainsford Road, Chelmsford, CM1 2QD
If you'd like to join us and rent the room in the future please register using the form below. You won't be able to book the room until you are registered, have signed the room rental contract and been set up on the booking system. If you'd like to have a look around and a chat please call me on 07855 053518 to arrange a convenient time.
Fees
1 hour - £10
3 hour session - £25
Half day - £45 (9am- 2pm) or (2.30pm - 7.30pm)
Discounts available for regular bookings, please ask for details
Payment will be taken during booking process
Working together
Our aim is to be fair, open and authentic with each other and our clients. To this end, any therapists using the room must provide evidence of adequate training and membership of a recognised counselling/coaching body; and must also have evidence of adequate insurance.
Online booking rules mean that rooms can only be booked 4 hours ahead, so if you need a room at short notice you will need to contact Jane directlyto check availability.
Payment must be received BEFORE using the room and is taken at the time of booking via the booking system
If you would like a copy of the Room Rental contract before deciding, please request it in the comments section of the form below. You can find our privacy policy HERE